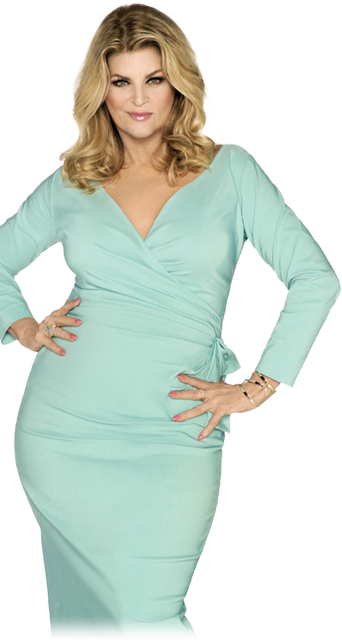 Kirstie Alley has emerged as one of the great actresses of her generation, proving time and again that she is capable of great depth and range, as well as possessing a comedic timing second to none. Her work in television has earned her six Golden Globe ® and eight Emmy ® Award nominations. She has won a Golden Globe, two Emmys and two People's Choice Awards.
Alley recently wrapped production on the first season of TVLand's "Kirstie", where she served ad both star and executive producer. In 2005, Alley co-wrote and starred in Showtime's critically acclaimed comedy "Fat Actress." She also played the title character in the NBC sitcom "Veronica's Closet" and served as executive producer for the series. In 1994, Alley showcased her dramatic range starring in the CBS TV movie "David's Mother". In 1987, Kirstie joined the cast of the long-running hit NBC sitcom "Cheers" as the neurotic Rebecca Howe.
Alley made her feature film debut in 1982 in "Star Trek II: The Wrath of Khan," in which she played the beautiful Vulcan officer Lieutenant Saavik. In 1999, Kirstie starred in the dark comedy film "Drop Dead Gorgeous," the cult-classic mockumentary that follows contestants in a beauty pageant in Minnesota. Kirstie starred in Woody Allen's "Deconstructing Harry" in 1997, and then then starred alongside longtime friend John Travolta in the hit film "Look Who's Talking." The successful film spawned two more movies in which Kirstie starred: "Look Who's Talking Too" and "Look Who's Talking Now."